The Definitive Guide to Rule the Game of Guest Blogging – 11 +1 Pro Rules
This is a comprehensive to-do guide for successful guest posting on high-value, authoritative websites. This will work the best for those content contributors and marketers who appreciate quality, relationship building, and value addition more than numbers, and backlinks.
In this age of internet marketing when content marketing is rising high (81 percent of B2B brands use blogging in their content marketing strategy), guest posting can be your favorite machinery to amplify your contents' reach and search engine visibility. Today's internet marketers know the value and power of high-quality contents. That is why they dedicate their time, efforts, and skills to create excellent contents consistently. These superior contents attract many new visitors and bring back old visitors to their websites.
Publishing such valuable contents on own website may excite your audience but what if you want to expand your audience reach? Instead of publishing all of your cornerstone contents on your website, what about if you start publishing a few best of those on other trusted websites and blogs. Posting contents as a guest author on other popular websites can bring additional qualified traffic to your website. Not only this, but it dramatically improves the search engine rankings of the sites involved in high-quality guest-blogging. Additionally, in the long run, guest posting original contents helps in establishing your authority and building the brand of your business.
Guest-post content should equally benefit both the author and the publisher website. When publishing unique content on a reputed website may showcase you, your expertise, and business in front of a new and larger audience, the publisher gets fresh contents with well-researched facts and data to bring more visitors to his site.
A few data and stats will surely exhort you to dive deep into guest blogging.
According to HubSpot, 53 percent of marketers said blogging is one of the top content marketing strategies.
Your website will acquire 97 percent more inbound links if your business is blogging.
76 percent of editors say they publish 1 to 10 guest-posts every week.
67 percent of editors like to publish video contents.
60 percent of bloggers do guest postings
70 percent of customers prefer to know about a company from their blog articles instead of an advert.
60 percent of consumers love to read relevant content from brands.
Guest posting contents may look pretty easy from outside; but the more you dive deep into this, you will experience the hurdles. The hardest difficulty an author generally faces is the rejection of the content by the publisher. To improve the guest posting success-ratio, you need to improve and inspect a few things related to the content and website where you are going to pitch your guest posts.
Knowing the publication website beforehand along with its readers, topics they like to publish, guest posting guidelines they want you to conform to, etc. will help you understand and develop the content which they would delightfully love to publish.
So without any further ado, let's see the 11 things you should always do before you share your guest post contents with the publisher.
Find Out Relevant Guest Posting Opportunities
Know the Publisher
Read the Guest Posting Guidelines
Plan and Research Data
Create a Great Piece of Informative Content and Avoid Being Promotional
Proofread and Format the Final Content
Use Copyright-Free Unique Images, GIFs, Videos, Infographics Related to the Content
Link Relevant Blog Posts from Your Guest-Post Content
Make Brilliant Author Bios
Create an Irresistible Guest Post Email to Pitch Your Content
Reply to User Comments and Promote the Published Guest Posts
1. Find out Relevant Guest Posting Opportunities
Knowing the relevant guest-posting websites who frequently and generously accept guest posts is a daunting task. Unless you discover an authoritative website on your industry that accepts guest posts, how will you start the process? Therefore, your first job is going to be building a big-list of authoritative websites that often publish guest post contents related to your niche.
Thankfully, this's not that difficult job if you know a few techniques. There are several ways to research and find out relevant guest blogging sites which accept guest blog posts.
Using Google Search Operators, you can get a list of guest posting sites where you can pitch your content.
For example:
intitle:guest AND intitle:post + keyword
allintitle:guest post + keyword
inurl:guest-post + keyword
allintext:submit guest post + keyword
All of the aforesaid search operators may bring many such publisher websites who accept guest posts related to your industry and keywords.
You may also search on Google with "keyword + guest posting sites list + current year" or something similar. This can get you a lot of websites where you can find a long list of publisher websites who regularly accept guest posts.
If you know a few of your industry bigwigs, you can search with something like this
For example: "neil patel" inurl:author -site:neilpatel.com -site:crazyegg.com -site:quicksprout.com
This may list all websites where Neil Patel might have been authored as a guest blogger and contributor except neilpatel.com, crazyegg.com, quicksprout.com.
You may also analyze a few of your competitors' backlinks to get a lot of guest posting sites' information where they have already published their guest blog posts.
"competitor's brand name or domain" inurl:blog -site:competitordomain.com -site:twitter.com -site:facebook.com -site:youtube.com -site:pinterest.com -site:google.com -site:linkedin.com
Closely watch social media groups related to your industry to see if any publisher website is in need of great guest blog content.
Join a few of your business relevant WhatsApp groups and share your authored guest posts as and when those go live on the internet. This may attract a couple of group members who are in search of expert guest authors. Note: please don't spam the online groups and messenger communities.
Additionally, you can register yourself on multiple blogging community sites. Afterward, you may post your guest-posting requirements to notify other community members that you want to contribute as a guest author.
While researching guest posting opportunities, avoid websites which have very low Domain Authority (DA), Citation Flow, Trust Flow, and high Spam Score rating. Furthermore, you should politely drop all low-profile guest-posting sites that charge money against posting your contents or publish articles on all possible categories.
2. Know the Publisher
Understanding the publisher site is the foremost thing you need to get your guest post published on the website. Unless you know the publisher, his website, its audience, content categories, and what exact type of guest-post contents they published earlier, it's going to be really difficult for you as an author or content marketer or brand.
Therefore, knowing the audience-class of the publisher website is a must. You may find a publisher website where its viewers engage more with detailed and long-form contents. Hence, to get your guest post accepted and published you have to create an equally powerful content that answers all possible questions of its topic. SearchMetrics has seen, in an average 1140 to 1285 words' contents rank top on Google.
Firstly, before pitching your content randomly, check the content categories of the publisher website in advance. Being relevant is essential here. Develop a content which fits into their content classes. Else, your contents are going to be rejected frequently.
Besides, to get a clear view about what type of contents they publish, research a few of their already published guest post contents. In addition to this, search the topics of contents they previously posted as you have to come up with a fresh content idea which they have not yet catered to their audience.
You may use Google search operators to know the published topics by the publication website. Assume you want to create one guest-post content on a topic related to "email marketing" for example.com website.
Intitle:email AND intitle:marketing site:example.com
This operator search will list all the contents that have email and marketing both words in the page title, are already posted on example.com site, and indexed by Google. Hence, instead of pitching the same guest-post topic which the publisher has already created, pitch a unique topic idea that they would love to publish.
3. Read the Guest Posting Guidelines
22.2 percent of guest posts get rejected by the publisher because of not following the guest-blogging guidelines.
Double-check the guest blogging guidelines of the publisher website before creating and pitching the content. Most of the top-notch publishers publish high-quality guest-posts and your content must match with that standard.
When all publishers accept only plagiarism-free fresh contents, they may have a few unique guest-posting guidelines. Whereas some publishers like to publish comparatively small content of around 1000 words, some love to publish well-researched and detailed contents.
When some publisher websites remove all external links, some may accept those which are relevant and pointing to the authoritative sites. A few websites accept relevant contextual links to the author website and some may not. While analyzing their already published guest-posts, check if the publisher website gives back a link (dofollow or nofollow) to the author site or not. In general, they will. However, when a few may consider one or two relevant contextual backlinks to the author site, some publications may only approve it from the author bio section.
In any way, do not keep your affiliate product links in your guest-post contents, as the majority of the publisher websites hate contents with such links.
Confirm if the publisher site has mentioned any specific image guidelines. A few publisher websites accept only a few image types and ask for specific dimensions to be posted along with the guest-post content.
Follow their content formatting thoroughly. If you are not adjusting your content to their guidelines, big publishers may consider these as your lack of research, hence, they may reject it. If they love to format their paragraph headlines in sentence case, you must tweak the same on your guest post content.
Knowing these prior to the guest-post content writing is crucial. These will save a lot of your time, as well as get you a high guest-post approval rate. Not only this, but the most important point is to respect publishers' guidelines and fine-tune your contents that match their rules. Else be ready for rejections.
4. Plan and Research Data
When you know the topic of the content you are going to pitch to the guest-posting site and do not have any doubt about the guidelines, you should focus on the content planning and data analysis.
According to Brian Dean and his Sky-Scrapper technique, you should do detailed research of minimum 40 blog posts which are ranking for your targeted topic/keyword. You may additionally use BuzzSumo to identify the contents that have performed the best on social media channels on a given topic/ key phrase. This not only gets you ample of vital data, stats related to the topic but also brings many new ideas about the content.
The objective always should be the value addition. Therefore, if you are posting content on your site or another guest-posting website, it must be better than those which are already up and live on the internet. A mediocre content may increase the number but will not help you or your audience ultimately.
Before writing the content, try to come up with 5 general points and 3 unique points that are not yet told on other contents published on the same topic. This might look difficult but you can do this using AnswerThePublic.com website. How about if you get all possible user questions about the topic "email marketing"? Won't it be great for your guest-post content? Using this tool you can know most of the questions people ask on a topic. And further you can answer most, if not all of those on your guest-post content to make it a one-stop resource.
Google "people also ask" and "related search queries" sections can also be used to ideate a few new points on a topic.
You may additionally use other data sources to come up with new and fresh stats, actionable insights, expert quotes to strengthen and back up your guest-post content. One such data source is Pinterest.com where you will find a lot of data-driven infographics on almost any topic. However, before you finalize a set of data to present on your content, double-check their authenticity and freshness.
5. Create a Great Piece of Informative Content and Avoid Being Promotional
Now when your topic, points, and data are ready on paper, you should invest sufficient quality time in tailoring a great piece of content that any publisher would love to publish.
The first paragraph of your content must be appealing and should resonate the essence of the topic clearly; otherwise, most of its visitors will exit it without diving deep into it further. Your goal of the content creation should be helping others with your knowledge, skills, and expertise on the topic. Therefore, while creating the content discuss as many relevant topics in-depth as you can.
Remember: Statistically, longer contents that contain 1,890+ words rank higher on search engines. Besides, coming up with a complete and comprehensive content will maximize the chances of getting the publishers' approval.
Additionally, work on the content optimization to make the guest post search engine friendly. Consider using a few relevant keywords on the flow of writing the content. A well-optimized guest post should have targeted keywords on its page title, content header (H1), paragraph headers, and the main body of the content. Using those meaningfully and contextually may bring many organic visitors to your guest-post content.
Finally, remember editors and publishers like authors who have a strong track record of penning good contents consistently on top websites. They are not the promoters and marketers of your products. Therefore, stop being promotional and sales-pitchy when creating the guest post contents, instead focus on their readers.
6. Proofread and Format the Final Content
Top publishers usually get hundreds of guest posting pitches every day. And they have no time to correct silly grammar mistakes of your content. Therefore, proofreading your content is equally important to see it finally posted on the publisher website.
When your initial content draft is ready, start correcting its grammar, spelling, and punctuation errors. There are many good grammar tools available on the internet which could be used to make your content error-free.
Consider formatting the content to make it look good and effortlessly readable by its readers. One single paragraph content may not be as effective as content with multiple small paragraphs. Therefore, break the content in short paragraphs and mark those with appropriate paragraph headings.
Additionally, you may create a to-do list of things above the fold of the content. This not only enhances the look and feel of it but also helps in SEO. Using lists is one of the powerful techniques that help contents to get into the Google answer box for relevant search queries.
7. Use Copyright-Free Images, Charts, GIFs, Videos, Infographics Related to the Content
We consume contents in multiple shapes and formats. Therefore, as a content marketer, you should use topical and attractive images, back-up screenshots, charts, informative videos, well-designed infographics, etc. on your guest-post content to satisfy your readers' quests.
According to Jeffbullas, you will get 94 percent more views if you use multiple images on your blog post.
Images, videos, and infographics not only augment the standard of your content but also influence the user behavior to a great degree. When sharing a dull image which is already used earlier on the internet may turn off the editor and readers, using a custom-designed attractive image may increase the audience dwell time significantly on your guest post content. Additionally, relevant image-screenshots that support your content points, are effective to improve the user experience. But, why only use a static image? One meaningful use of animation or GIF on your best guest-post content can make it a real hit on the internet.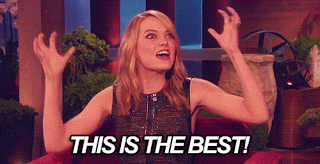 In the last few years, many content marketers have confirmed that more and more video contents are going to be used in the coming days. According to Search Engine People, videos in posts increase organic traffic by 157 percent. Therefore, make a good habit of using relevant videos on your guest postings. Similar to videos, you may use podcasts too if the publisher website allows that.
Designing an infographic is a time-consuming job but the final output may attract thousands of eyes on it. Hence, posting well-designed infographics along with current data and stats may dramatically bump up the guest-post approval rates.
8. Link Relevant Blog Articles from Your Guest-Post Content
As we mentioned earlier, your guest posting objective should be, value addition and relationship building. Therefore, you must create content that will benefit its readers, expand their knowledge base and expertise on a given topic.
While writing content, you may use a few terminologies or key-phrases which are not elaborately described on your guest post. But linking those terms and phrases to webpages with more insightful explanations will surely profit your audience.
If the publisher website allows external linking, you should link a couple of informative posts that are relevant and non-promotional from your guest post content. In addition to this, if the publisher website accepts, ideally you should add a contextual backlink to one of the relevant blog posts published on your website.
Moreover, internally linking one or two related posts of the publisher website from your guest-post content is considered to be a good practice. Internal links help to increase the audience dwell time and page views of the publisher site.
9. Make Brilliant Author Bios
The author bio is the section where you brief about yourself, your brand, and your skills. Additionally, you may link to your website, or a landing page, or your social profiles from here. Having a beautifully crafted author bio helps in getting visitors to your website from your guest posting.
But you must remember that unless you have a great guest post content, none will be interested to know you or your business. Hence, focus on creating profound contents in simple language to naturally drive guest-post readers to your website.
You may custom-create your author bio details depending on the publisher website. This is considered to be a good practice. Besides, don't use the same keyword-rich over-optimized anchor text repeatedly to link to your site. These not only look unnatural but also can potentially damage your site's ranking performance. Instead, use the brand name, different variation key phrases as anchor texts.
Most of the publisher website displays the headshot of the contributor in the author bio section. When some may ask for a square profile picture as an email attachment, some may fetch it directly from your Gravatar.com account. As a guest author, you must check the publisher's guidelines before sending your content. Just make sure you uploaded an HD clear profile photo on Gravatar against the email address you use for pitching your guest post contents. Remember to use the same headshot on all of your guest postings. Using different profile photos may create a major identity and branding issue.
10. Create an Irresistible Guest Post Email to Pitch Your Content
Now when your guest post content is ready you must send it as an email attachment to the publisher website. But how you are pitching the guest-post email, makes all the differences.
Bloggers and publishers are busy people; their mailbox gets inundated with similar guest post contribution requests every day. To make your guest-post pitch stands out from the rest of the crowd, you must someway make it unique and value for time. Though, you should first check if they accept only a specific guest-post-email subject line format.
There are many thumb rules of pitching a great guest-post email which you can read and practice. Your guest-post email subject line must catch the eye of the editor. Additionally, the guest-post pitch email body must reflect the amount of research you have done.
A few good guest-post outreaching practices like making the conversation personalized, keeping a list of published articles, proposing a few unique topic ideas with a couple of pivotal points, can break through the initial barriers. Additionally, you should respect and value the editor's time by making everything well organized, concise, and correctly formatted.
You should try using different email subject lines to monitor which one is capturing the better open rates. In case of no-responses, you can send polite follow-up emails after a week to the editors to grab their attention.
After getting the initial response back from the publishers, you should send all the required details to them. Make sure to attach all the required files in the correct shape, size, and formats to make everything effortless for the publisher.
Personalized guest-post pitching works better. Therefore, avoid mass-emailing publishers and editors to pitch your guest post content.
11. Reply to User Comments and Promote the Published Guest Blog
You shouldn't limit your efforts only in publishing the guest-post on the publisher website. Instead, you should start engaging with its audience and socially promote the content to amplify its reach.
Engaging with the readers of your guest-post by replying to their comments, answering their questions is a good gesture of showing gratitude and adding values. Good, relevant, and well-written comments update the content which in return helps in Search Engine Optimization and ranking. Therefore, encouraging readers to share their opinions is worth doing.
You should revisit your guest-post content at regular intervals to respond to the readers who have commented on it. This helps in building a community which may start following you on a variety of online channels.
Keep a social media calendar to share your guest-post content a couple of times for a few days after your guest post gets published. Encourage your social followers to share your content and engage with it. Doing all these you can expand the natural visibility of the guest post.
Plus One Bonus: Show a Sportsman Spirit If Your Guest-Post Content Gets Rejected
"I can accept failure, everyone fails at something. But I can't accept not trying." – Michael Jordan
If you understand this, you will know how to handle failures and rejections. You can read this article written by Ramit Sethi the author of "I Will Teach You To Be Rich", a New York Times Best-Selling Book.
When one of your best guest-blogs gets rejected by the publisher, don't pound on him. Instead, thanks to him politely for his valuable time, and send a better piece of painstaking content following all the guidelines and rules. This confirms your positive attitude, expresses your never-give-up persistence and strong determination. Moreover, you know that there are other great guest posting websites where you can pitch your contents to author as a guest contributor.
If most of your guest-post contents are getting rejected, you should inspect the reasons behind that. Do check whether your content-quality matches the standard of the publisher website. Also, confirm if you are complying with all the guest-posting rules or not.
Besides, in your initial days of guest blogging, you should not pitch to the highest authority websites of your industry. As we mentioned earlier, influential bloggers and big shot publishers like to publish the contents from those authors who have a successful track record. Therefore, target those guest-blogging websites which are within your reach and proximity. Publish at least 10 guest-posts on 30-40 Domain Authority websites before sending your guest-blogging pitches to the 40-50 DA websites. This step-by-step approach will increase the chances of getting more guest-post approvals.
Wrapping Things Up
Guest-posting is not a sprint instead it's a marathon which requires continuous efforts, skills, patience, and persistence. One has to impart at least a year's time in guest blogging before he or she can see any visible and measurable results. Most importantly, you should focus on building strong professional connections and relationships with bloggers of your industry.
Remember: a guest-post contribution should be mutually beneficial for both the author and the publisher. When your content must add value to the readers of the publication website, the publisher brings a new audience base to showcase your skills, expertise, and authority.
Insightful guest-post contents published on influential websites are great sources of inbound links. But using guest-posting as a tool for link building without offering any value to the community may create problems both for the author and publisher websites. Therefore, create a great piece of content to publish as guest-post, engage with its readers, and promote it to boost its reach to get the maximum benefits out of it. Further, stay away from low-profile guest posting just for the sake of a few backlinks.
Lastly, I would recommend you not to weigh guest posting results in numbers at least during the first year of your guest blogging journey. Focus more on quality, be consistent and patient, be professional and polite, and dive for meaningful relationship building with fellow bloggers, key influencers, and authoritative companies.
Comment down below about your best-case and worst-case experiences in guest blogging and how you tweak your tactics to align them with the publisher's website. I would love to hear about your guest posting strategies and how they worked or didn't work for you.
An advanced All-in-One Digital Marketing Course.
Mentored by Mr. Soumya Roy, the Founder, CEO of PromozSEO Web Marketing Academy.
CHECK OUT NOW !!
Latest posts by Soumya Roy
(see all)